South America - Chasing Dakar Ride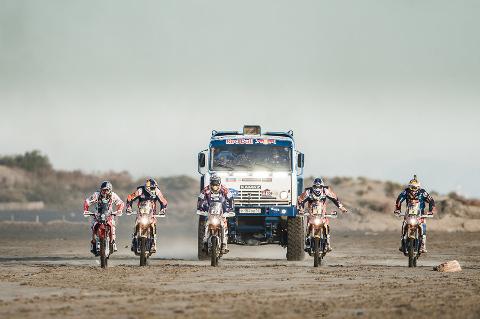 Duration: 25 Days
Location: Santiago
Book Now
The Dakar Rallye is the single most extraordinary race of its kind. The race started in 1979 as a race from Paris to Dakar. In 2009 the race was moved to South America.
In 2018 we are doing it differently. We will organise all the pre-trip logistics and will be there on the ground in South America Chasing Dakar with you to help out and use our 6 years of lessons learnt to keep you right there amongst the action.
It won't be an organised Dakar tour. There won't be any backup vehicle. There won't be any pre-booked hotels. You are free to do what you like. Stay where you like, whether its 5 star hotel or camping around a campfire. Go where you like whether its watching the Trucks going over dunes or watching the bikes carving trails. It will be a 'Back to Basics' Chasing Dakar for 2018.
As part of the logistics package we will organise the bike freight or if you prefer to hire a bike we will get you in touch with a reliable hire bike company in South America. It's taken us years to find reliable companies in South America.
Join us for an incredible motorcycle adventure 'Chasing Dakar'. From the podium start in Lima through deserts and over the Andes we follow this amazing race. Get ready for some big days of riding and make sure you have plenty of spare SD cards for your camera. We witness the action like no other ride. From the start to the finish we get you where the action is.
On this expedition we 'Chase Dakar'. If you want to see full coverage of the event, then stay home and watch it on TV. On the other hand if you want to Touch, Smell, Feel and Taste Dakar. Then join us on this incredible journey.